Patient's heart at your fingertips
Any patient can now be kept under full surveillance.
Personal Performance (Employees)
With the dynamics of the modern world, people are getting busier and busier. As much as you may want, you might never find time to get enough healthcare attention. In such cases health-risk prevention is even more important and the less time-consuming it is, the less need for additional adjustments of busy schedules.
QLine is the best warning system for serious health issues.
QLine provides a unique way for you and your workforce:
* Take fast and easy (5 min) health evaluation.
* Observe the influence of daily factors (workload, daily activities, and other stress factors).
* Track health changes and reveal cumulative stress in the early stages.
* Monitor your training activity
* Improve you stress
In only five minutes, one of QLine's services known as the Health Snapshot will reliably evaluate your condition in terms of cumulative stress and health level. You will know in no time how you and your workforce really are.
In addition to our Stress Relieving Program you can really take control over physical and mental stress accumulated in your body. QLine Stress Reliever has been designed to prevent, manage and reverse the negative effects of stress. With it you can learn how to operate your mind, body and heart as a unified system, and achieve new levels of health and well-being. It helps you effectively reduce your stress levels and revitalize your entire body. Continuous reduction of momentary stress can affect your accumulative stress and health level.
Benefits
QLine offers two major services:
*
Stress & Health Assessment
- this includes a Health Snapshot of your overall health condition; cumulative physical and mental stress assessment; fitness condition assessment; early stage warning system.
*
E-coaching & Stress relief
- health improvement system for dealing with stress and health-risk factors, based on E-coaching biofeedback technologies.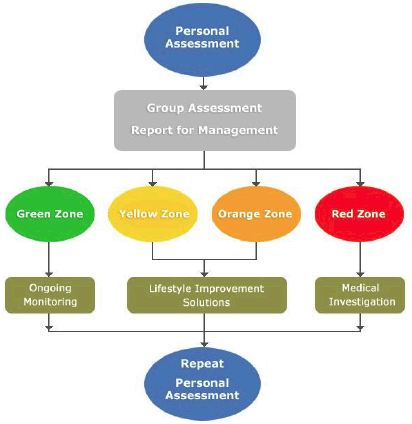 Features
* Health level analysis reports of employees' results in terms of individuals (Personal reports);
* Stress and Health Level Assessment. Precise assessment of physical and mental stress;
* Personal history reports;
* Assessment of: Fitness of the body, Cardiac Index, Vascular Index, Training Level, etc.
* Coaching Biofeedback (Stress Reliever) that combines stress measurement with self-training techniques for health improvement, based on special breathing technology;
* Questionnaires that are analyzed together with medical data to add more value to reports results;
* High security online system that allows easy way to make assessments and access the desired data;
* Professional beneficial advisory and consultancy;
* Take an accurate and thorough health evaluation for just 5 minutes;
* Monitor sports & training activity;
* Track health changes and reveal diseases in early stages;
* 24 hours online support.