Patient's heart at your fingertips
Any patient can now be kept under full surveillance.
Wellness Programs
E-coaching & Stress Relief
QLine is not limited to health assessment alone. Health assessment is just one aspect of what QLine offers. Optimal results should prove satisfactory for all levels of employees. However, whenever there are "weak spots", action must be taken. Employees with low health assessment level results must be treated appropriately. Good managers should be able to determine whether it is personal problems or stress at work that keeps these people from optimal performance. When results are considerably poor, it is highly recommended to seek professional health care.
Our Stress Relieving Program helps individuals take control over physical and mental stress accumulated in the human body. QLine Stress Reliever has been designed to prevent, manage and reverse the negative effects of stress. It effectively reduces stress levels and revitalizes the entire body. Continuous reduction of momentary stress can affect accumulative stress and health levels.
QLine offers a unique way to reduce stress in a self-teaching program called E-coaching biofeedback. Basically this requires a special personal device that is comfortably attached to the user (employee) and teaches him / her certain techniques of relaxation and breathing. This is a scientifically tested and proven methodology.
The Stress Reliever device connects to the Internet and results are analyzed in real time. Managers, as well as employees themselves may observe the progress they make. Instantly, you can see the benefits of E-coaching in reducing stress levels within the human body. It is a safe, comfortable and fun way to improve the health state of virtually everybody in the company.
QLine trains individuals in how to cope with stress and stressful situations online and interactively. QLine can control this process remotely. Participants may have the opportunity to train wherever they like, at work or even at home.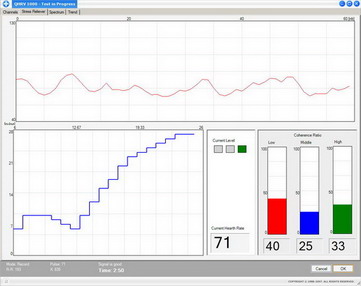 The figure above displays an example of the results of the E-coaching session. If you have a better control over for instant relaxation you will end up more in a "green" score.
Professional Advice and Beneficial Plans
QLine provides Professional Advice and Beneficial Plans as additional solutions for Health Improvement and Stress Relief at work. This includes programs aimed at making long-term improvements for your personnel. Our consultancy is based on the results of the corporate stress and health level assessment.
The Professional Advise we offer is widely based on the specific case and needs of your company. This encompasses an extensive range of solutions and we recommend a selection of the most suitable ones for your organization, depending on your requirements, and certain specifics such as infrastructure and budget.
We also offer beneficial programs for your employees that may additionally leverage your ROI (Return of Investment). These also strongly depend on the results of the stress and health level assessment.
Read more about our
The Stress-Less Programme
.
Read more about our
Workplace Wellness Programs
.